Click on images for larger view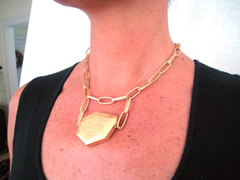 A large free form, faceted stone lovingly covered with gold or silver leaf and suspended from a large handsome matte finish chain of the same metal, creating a bold original piece. No two are alike.
Toggle clasp for convenience. As shown, approximately 19" and falls to 22". Specify length. Available in gold and silver.
$250 (Gold)
$200 (Silver)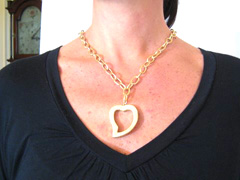 For your sweetheart or your sweet self, a heart of gold. Suspended from over medium sized twisted rope chain, the matte black agate stone is lovingly covered with gold leaf.
As shown, 19 1/2" falls to 24" Specify length. $185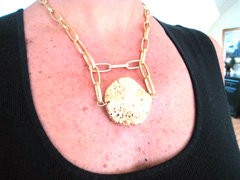 Like a trip to Hawaii. An exotic piece of lave cut into a wavy disk then lovingly covered with gold leaf and suspended from our large gold matte chain. Truly unique.
As shown, 19 1/2" falls to 23". Specify length. $195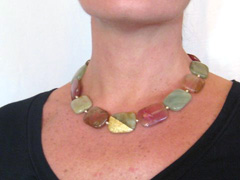 Hues of pinks and greens. Flower jade has a feminine quality. The center stone is diagonally gold leafed to make this one of a kind necklace so imaginative and special.
Tasmanian stones measuring 22mm x 30mm are separated with gold filled beads. Gold filled clasp. $215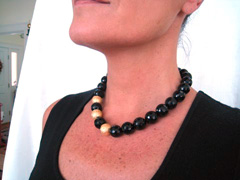 Stunning faceted shiny black onyx beadswith 3 gold leafed beads - very classic, very striking.
Necklace measures 18". 16mm beads. Gold filled clasp and beads. $245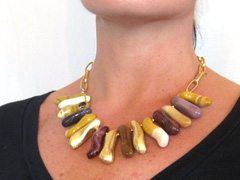 Very unusual freeform moukaite in shades of cream, mustard, burgundy, plum and browns. 3 pieces have been lovingly gold leafed. Stones are separated by gold filled beads strung and attached to my large link gold chain. Innovative and eye catching!
Australian stone slightly graduated from 42mm to 35mm. Shown at 18". Specify length. $210