Not your grandmother's pearls!
Click on images for larger view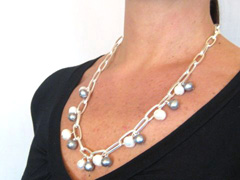 Beautiful fresh water cultured pearls on our handsome large link matte chain. Gray and white pearls together on every other of the lower half of necklace.
10mm to 12mm pearls. Silver chain. Shown 23 1/2" long. Toggle clasp. Specify length. $160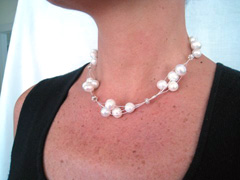 Delicate silver covered wires cluster groups of 4 pearls. Separated with sparkling Swarovski crystal rendels. The toggle clasp is bejeweled with Swarovski crystals.
Pearls are 10mm to 12mm fresh water cultured. Necklace as shown is 17". Specify if another length. $195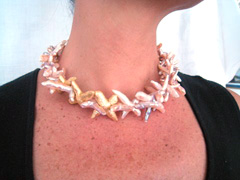 Unparalleled pearl necklace. Shades of peachy pink, cross shaped pearls fit together to form a very unusual necklace. 3 of the pearls have been lovingly gold leafed and placed asymmetrically for subtle interest. Japanese cultured fresh water pearls.
As shown 18 1/2" long. One of a kind. $275