Semi-precious stones used to create
large, bold, striking necklaces that are bound to be noticed!
Click on images for larger view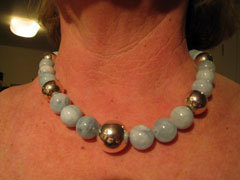 Beautiful large aquamarine beads. A lustrous shade of blue, set off with large sterling silver beads. Very wearable and eye catching.
14mm aquamarine. 9mm and 16mm sterling beads. 19mm sterling toggle clasp. $375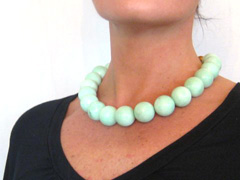 Unparalleled, very large green moonstone necklace. One for everyone to notice. 4 large pillow shaped gold filled beads and a large vermeil toggle clasp completes this spectacular necklace.
21 1/2" long. 22 mm beads. 35mm toggle clasp. One of a kind! $400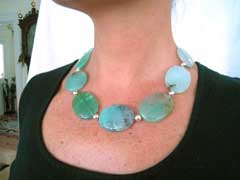 Delicate shades of aqua and greens make you think of Caribbean seas. And, like the seas, there are objects where you look down deep. Large Queensland chrysophase ovals separated with sterling disco beads.
Sterling clasp. 21" long. 40mm x 30mm oval beads. One of a kind. $295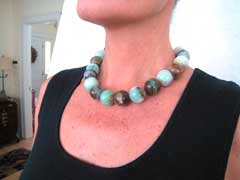 Where the earth and the Caribbean waters come together. These large round Queensland chrysophase beads are shades of browns, light sea greens and foamy whites.
Beads measure 22mm. 20" long necklace is finished off with Southwest sterling beads and a sterling toggle clasp. $325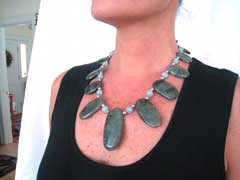 Big and bold. Large dark green Canadian labradorite graduated ovals strung with aquamarine beads to pick up the labradoresescent blues. Finished with Southwest sterling beads and a sterling toggle clasp.
Labradorite measures a whopping 63mm and graduates to 27mm. Necklace is 21" long. $250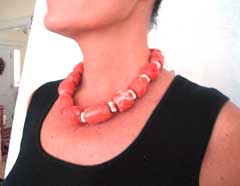 All coral is becoming rare. These big chunks of coral colored Chinese sea bamboo coral are so special. Separated by sterling fan beads and finished with a large sterling toggle clasp.
Slightly graduated from 30mm to 23mm and measures 20-1/2" long. One of a kind. $300